LUBRICATION OF LOW PROFILE CONVEYORS
Low Profile Conveyors utilizing out-dated lubrication technology can have a drastic effect on maintenance and lost production costs.
Conveyor Technologies high capacity sealed for life units are still operating on a 24/7 basis after more than (4) years, without re-lubrication.
Bearings, and reducers of the proper type and size, utilizing sealed for life technology, are providing maintenance free operating life far greater than many systems requiring routine re-lubrication. Frequently these routine re-lubrications are neglected, resulting in production disrupted with an un-anticipated failure. When this occurs, it is possible that additional components such as pulleys and shafts that are utilized as the bearing inner race, must also be replaced. Routine re-lubrication can also expose bearings to harmful contamination, since this is not performed under the "Clean Room" conditions of the sealed unit.
The following information was derived from a common manufacturer's maintenance manual, and addresses lubrication of bearings on their low profile conveyors. They recommend removing, flushing, and re-lubricating their driver bearings every 1,000 hours of operation. A chart also indicates the lubrication interval based on belt speed.
This 1,000 hr. lubrication interval, would require extensive dismantling of drive, and pulley assembly on a routine basis in order to accomplish this lubrication procedure. Because of the cost in time and labor, it is unlikely that many would follow this recommendation. After reviewing the chart, it becomes apparent that it differs with the recommended 1,000 hr intervals. At this point the customer must determine the "interval time" and procedure, and hope he made the right decision.
It is suggested that these bearings can be lubricated while the conveyor is running. However, this does not appear to be very prudent, or practical. This would require holding, and activating a manual grease gun on a fitting which is only 1/8" of an inch outside the "belt path". The closing instructions to wipe off any grease that may have been forced through the seals, neglects one important issue.
Referring to figure #1, each of these bearings has (2) seals, if grease was forced past the outer seals, one could assume it may also have been forced past the inner seals, which are under the belt. Since this grease cannot be wiped off, it can accumulate and contaminate the belt, and both pulley surfaces. This has the potential to cause belt slippage and tracking problems. Unfortunately the amount of grease forced past these inner seals, and normally the drive side outer seal, is not externally evident. This condition is mentioned under the trouble shooting section of their service manual. Removal of this lubricant may be difficult, and could require replacing the belt.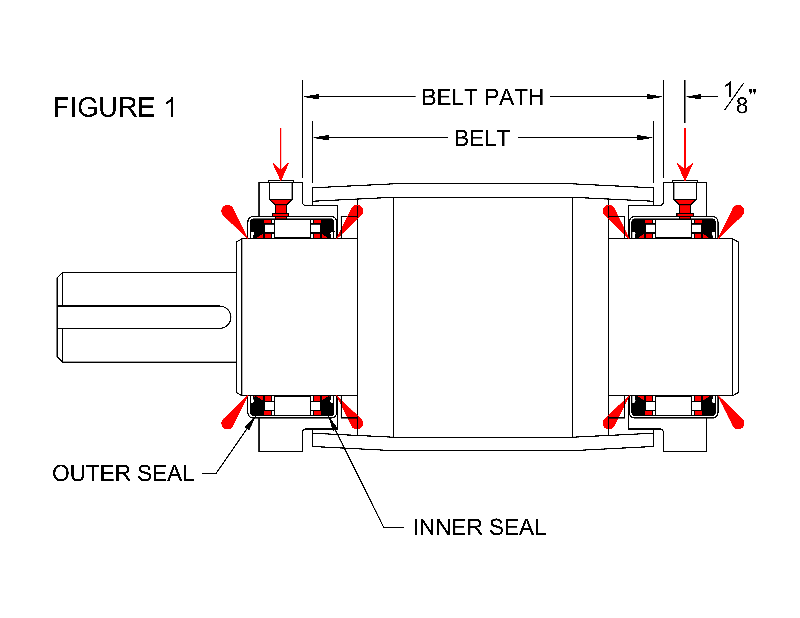 Because the bearings of the tail pulley are not easily removed, and would normally have to be replaced if they were, the customer appears to have (2) choices. They can replace the entire tail assembly every 1,000 hrs, or select a routine re-lubrication interval, and wait for later replacement.
Due to these greater overall cost that re-lubrication can inflict on the end user, CONVEYOR TECHNOLOGIES had no hesitation when selecting high capacity, self-aligning, sealed for life ball bearing units to meet their 2 year warranty. Ball bearings can normally function twice as long as roller type needle bearings before re-lubrication is required. The larger ball bearing used by CONVEYOR TECHNOLOGIES, also has a lubricant capacity many times that of the needle bearing, and operates at only 70% of the R.P.M. of these needle bearing units to produce the same belt speed. The lubrication limitation on needle bearings, plus the lack of axial load capacity, and self-aligning ability to contend with miss-alignment and shaft deflection, appears to make them a less desirable choice for a low profile drive pulley. This may be part of the reason that bearings are not included in this competitor's 2,100 hour warranty.